Dearborn High School
Class of 1972
Vietnam Vets Tribute
This is a tribute to those American patriots who fought in the Vietnam War, i.e.,
our generation's war:
********************************
This following are two tributes to those American patriots who fight in today's war on terror, i.e.,
our children's and our grandchildren's war. The second of these was created by a 15-year old girl, Lizzy Palmer:
********************************************************************************
I remember my lottery number very well......do you remember yours?
Vietnam, the Draft, and our DHS Class of 1972
President Franklin Roosevelt signed the Selective Training and Service Act of 1940 which created the country's first peacetime draft and formally established the Selective Service System as an independent Federal agency.
From 1948 until 1973, during both peacetime and periods of conflict, men were drafted to fill vacancies in the armed forces which could not be filled through voluntary means.
The last draft call was on December 7, 1972, and the authority to induct expired on June 30, 1973. The date of the last drawing for the lottery was on March 12, 1975. Registration with the Selective Service System was suspended on April 1, 1975, and registrant processing was suspended on January 27, 1976.
In 1973, the draft ended and the U.S. converted to an All-Volunteer military.
What did this mean to our DHS class of 1972? For those born in 1954 (most of us were) we had to register for the draft when we were 18.
Our lottery drawing was held on 8 March 1973 for inductions to take place in 1974…so for many of us this drawing occurred during our freshman year at college.
The table below shows the result. The first column indicates the day of the month of your birthday…and then depending on the month go down the labeled columns to see your number.
For instance, the lottery number for a 17 Jan birthday was 296; the lottery number for an August 25 birthday was 358.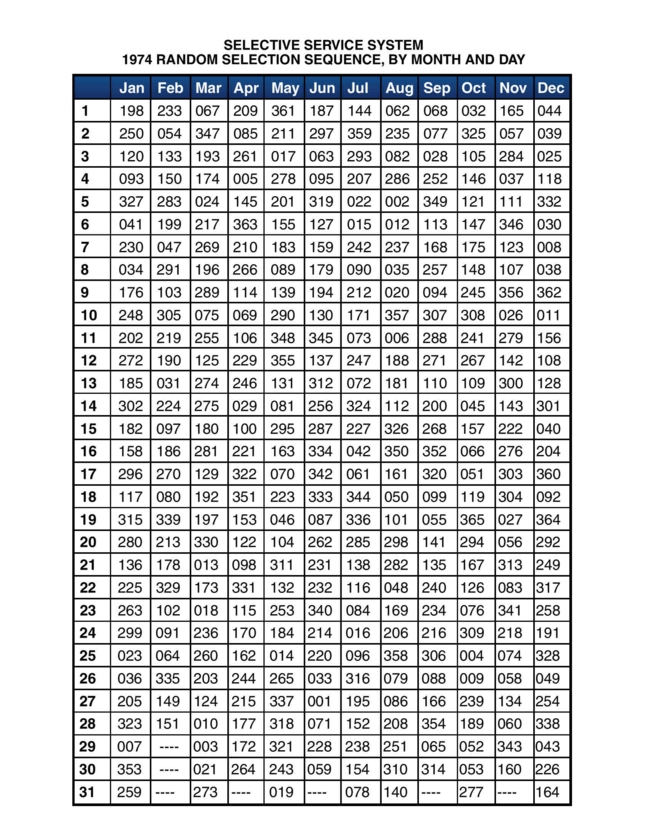 Those of us to be drafted would have been inducted in 1974. It turns out that only 646 were inducted in 1973…down from 49,000 the previous year and 94,000 the year before that. So we were truly at the tail end of the conflict, and more or less spared from it.

By 1972, 70,000 draft evaders and deserters were living in Canada.

US Troop levels peaked in 1968 at 536,000. By 1972 they were down to 24,000. "Inductions" peaked in 1968 at 294,000, by 1972 they were down to 49,000.

In 1973 the military went to an "all volunteer" system, and the draft was dropped. The requirement to register for the draft was suspended in April 1975. It was resumed again in 1980 by President Carter.

UA-104547965-1